LABORATORY FOR ROBOTIC MECHATRONIC TECHNOLOGIES

SECTION FOR ACCURATE MEASURMENTS OF DYNAMIC QUANTITIES IN MECHATRONICS
PROJECT BG05M2OP001-1.001-0008 | NATIONAL CENTER OF MECHATRONICS AND CLEAN TECHNOLOGIES
Manager: Prof. Dimitar Dichev, DSc. (Technical University – Gabrovo, Faculty of Mechanical and Precision Engineering)
Contacts:
e-mail: dichevd@abv.bg
тел. 0888522562
The section performs research on dynamic characteristics of machines and equipment subjected to alternating mechanical impacts (shocks, vibrations, etc.), as well as analysis, verification and calibration of the dynamic accuracy of systems and means measuring parameters of moving objects (land vehicles, ships, aircraft". Potential partners and clients of the section can be research teams at home and abroad working in the field of dynamic measurements, as well as companies producing machines and equipment exposed to dynamic impacts.  
The work of the section is focused on the following research activities: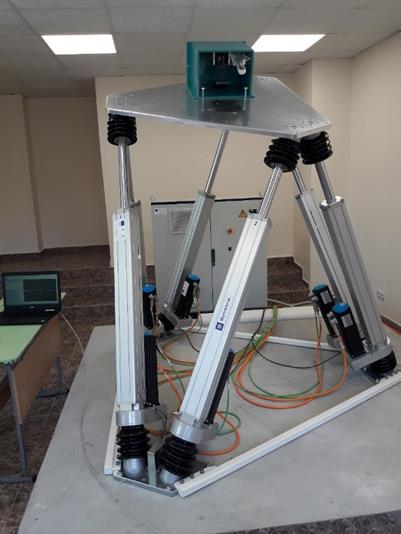 The section has the following basic equipment:
MECHATRONIC SYSTEM WITH SIX DEGREES OF FREEDOM FOR STUDYING DYNAMIC CHARACTERISTICS
The mechatronic system with six degrees of freedom is a stand simulator developed on the basis of the six-axis Stewart platform architecture (hexapod), which provides the necessary sensitivity, maneuverability and accuracy of movement of the working platform. It allows generation of simultaneous movement in six directions – three linear mutually perpendicular directions and three angular coordinates (up to ± 460 mm in linear motion and ± 40 ° in angular motion). This system is the only stand-simulator in Bulgaria for reproduction of linear and angular motions of moving objects that has reference properties. Thanks to its efficient mechanical components, the system allows generation of movements for loads up to 1 ton with a wide range of linear and angular displacements.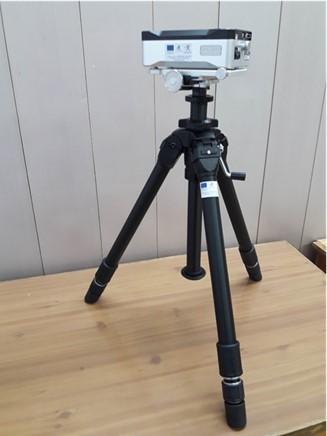 CALIBRATION SYSTEM IN STATIC AND DYNAMIC MODE
To ensure greater measurement accuracy, to expand the functionality of measurement activities and to conduct verification and calibration procedures with proven accuracy regarding the operation of the hexapod, the laboratory is equipped with a calibration system in static and dynamic mode and a smart system for machine vision and visual dynamic inspection.  
SMART MACHINE VISION SYSTEM AND VISUAL DYNAMIC INSPECTION