LABORATORY Virtual engineering and digital manufacturing – Industry 4.0

SECTION FOR DESIGN, VIRTUAL AND PHISICAL VALIDATION OF MECHATRONIC SYSTEMS
PROJECT BG05M2OP001-1.001-0008 | NATIONAL CENTER OF MECHATRONICS AND CLEAN TECHNOLOGIES
Manager: prof. DSc eng. Georgi Todorov
Contacts
e-mail: gdt@tu-sofia.bg
tel. +35929652574
The Section performs research related to integrated design and engineering methods using physical and virtual prototyping in the product design process. The project activities are focused on solving multidisciplinary engineering problems and integrating different concepts for control systems. Actual methods and technologies for virtual prototyping are used, as well as available laboratory stands for testing and testing of physical prototypes. Potential partners and clients of the laboratory are research teams in the country and abroad with similar scientific interests, as well as industrial partners, manufacturers of various components for mechatronics.
Section team works projects in design, virtual and physical validation of mechatronic systems and products.
The Section has the following equipment:
Specialized software for multiphysics engineering analysis ANSYS Multiphysics 19R3 - used to perform engineering analysis of various mechatronic products.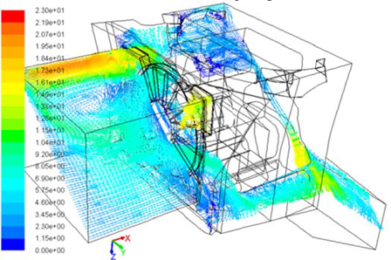 Thermofluid (multiphysics) analysis of automotive engine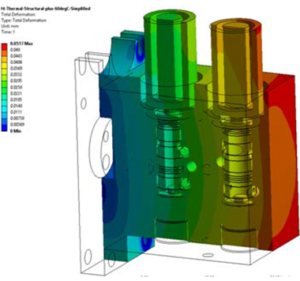 Sructural mechanics analysis of piezo-electric actuator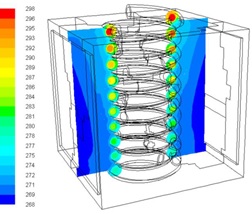 Thermofluid (multiphysics) analysis of cooling module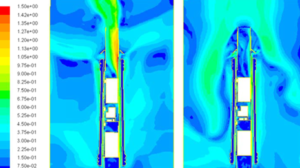 Multiphysics analysis of telecommunication electronics
Complex for physical validation of mechatronic systems subjected to mechanical impacts - stands and devices for testing impact loads.
Free-falling object test machine
Complex for physical validation of mechatronic and tribotechnical systems exposed to the working environment - a set of stands and devices for determining the influence of the working environment (temperature, dust, UV radiation), as well as for measuring tribotechnical parameters.
Testing for wear and friction
High-speed camera - used to record fast-moving processes, including as a recording device when performing impact tests.